There are several newsletters and mailing lists you can subscribe to
NFDI4Ing is hosting regular News. Read past issues and sign up: NFDI4Ing-News 

There is also a mailing list for each of the communities:
Community 41  Mechanical and industrial engineering
Community 42 Thermal engineering and process engineering
Community 43 Materials science and engineering
Community 44 Computer science, information technology, electrical and systems engineering
Community 45 Construction engineering and architecture
 The NFDI is also hosting a monthly Newsletter. Find their archive and how to subscribe
here
We work on the GitLab Instance git.rwth-aachen.de
Many of our task areas organize code, information or other kinds of materials via GitLab.
Check out the nfdi4ing-group to get started.
Majority of repositories are public, so everybody can access them, but to contribute you need an account.
Members of participating institutions can login via the DFN-AAI Single-Sign-On, external users can login with a GitHub-Account, limited to projects and groups they are invited to and public ones.
The creation of projects and groups is limited to people signing in via the SSO-mechanism. Feel free to create a project in another GitLab instance for us to fork over, or let us create a new project for you.
Documentation is plentiful, guides concerning git (for example by Atlassian de/en) and git workflows, and GitLab is hosting an excellent documentation about its features as well as guides covering the basics.
Community Forum: Discuss and exchange
Come to this gitlab project to discuss reasearch data related topics & issues
"Gitlab again? They linked it twice instead of the forum" – But no, this is correct. We will use this specific Gitlab project to discuss within its issue management system. How is that supposed to work? Follow the link and see the project Readme and Wiki.
This might be unconventional, but integrating and using Gitlab and its features to organize discussions brings many advantes: One discussion can be found marked with multiple tags (labels), where typical forums only organize in one dimension. Gitlab also brings great features to for referencing other issues (threads), projects and files as well as organizing them in issue boards according to specific labels.
Access is the same as for Gitlab – the forum group is public so everybody can participate and request access. Just sign in and find the link just underneath the title.
Want to discuss Open Data subjects on a wider basis?
Take a loot at the OpenData Stackexchange!
 An effort is made to create a common discussion platform for all rdm related topics. Stay tuned.
You can currently find two instances of FAQ:
The community-centered FAQ is located on the main page of the Community-Hub.
The more general FAQ can be reached via the top menu contact&FAQ.
We recommend the following survey tools:
DFN Terminplaner
This scheduler is a free service hostet by the DFN, a safe alternative to commercial services like doodle.
 SoSci Survey
This professional survey tool is highly customizable and implements strict security. It is fully DSGVO compliant and free for non-commercial use.
Check out this knowledge base 
Which is hosting guides and How-Tos for several research data and software related topics, covering  Version control, Build system, Cross-linking publication, software and datasets, Continuous Integration, Containerization, Test-driven development and code quality, Test quantification, visualization and evaluation on HPC-clusters.
The topics are also categorized by having part in the minimal or full  version of the workflow for (improving) scientific software, which poses as an underlying concept of the knowledge hub.
Tools for Members & Participants
Sharepoint acts as the main service for internal document exchange
The Sharepoint is hosting libraries for each task area, to exchange, collect and organize materials and information. Documents can be edited online without the need for locally installed office software, also allowing for live collaboration.
The sharepoint server offers advanced metadata operations as well as a version control.
Office Templates for presentations and letters and further materials along with the style guide are hosted there.
How-To's and Guides on how to use the Sharepoint, mailing lists, Rocket.Chat can be found along with information about how to access these services. See here.
Access NFDI4Ing Members can apply for a TU-ID which allows the login to the sharepoint. For details on the request see below.
 If you are accessing from a domain environment, it might be necessary to add "ADS\" in front of the TU-ID (username). 
To request a TU-ID, please send an email containing the following information to contact@nfdi4ing.de.
Please CC your co-spokesperson, who guarantees your information is correct. 
Last name
First name
Date of birth
And, for your business address:
Personal email address (no group mailboxes)
Street address
ZIP/postcal code
City
Phone number
Once we have this information, you will receive a formal application, which you will have to sign and send back to the address provided in the document. As soon as this is done, access to the SharePoint can be provided. If you have any questions, feel free to contact 
contact@nfdi4ing.de
Come and join the official NFDI Rocket.Chat Server
The NFDI has announced Rocket.Chat as its official means for flat communication. Announcements can be found in the general channels of the nfdi and the consortia, but Rocket.Chat also allows to organize in teams, public and private channels (with threads) as well as private conversations.
If you've used Slack or Discord before, you'll find Rocket.Chat familiar.
Rocket.Chat is OpenSource and as such the NFDI is hosting its own instance under:
all-chat.nfdi.de
Access is currently limited to members of currently funded consortia. Members of NFDI4Ing can request login details via a document on the Sharepoint. See here.
Apps Rocket.Chat is available via the browser, but there are also apps for Windows, Linux, iOS, Android and Apple devices. Find the downloads here.
Documentation Take a look at the End User Guides from rocket.chat, or this tutorial in German language (note: this is describing a different rocket.chat instance). This short guide (German) can be found on the sharepoint.
OpenProject
NFDI4Ing  along with many other NFDI consortiums is using a shared instance  of the project management software OpenProject. 
Access
All of the consortium's members can (and should) receive access. Please refer to your Task Area's Lead/Co-Spoke to get access.
How-To & Rules
You can find a How-To containing a guide for your first steps here. Please also visit the Wiki with information and rules on the instance.

Mailing list & function mailbox
There are several mailing lists you can subscribe to
An overview of existing mailing lists for internal NFDI4Ing communication can be found on the sharepoint   This entry will be updated with additional mailing lists spanning NFDI and RDM topics.
How-To's for usage and administrations can be found on the sharepoint (link).
Function mailboxes allow multiple members access to one shared mailbox
A function mailbox can be accessed by multiple users to utilize the same mailbox and email address for an extended time period. Applications indicating the wanted email address (@hrz.tu-darmstadt.de with the alias @nfdi4ing.de) and the TU-IDs of intended users are submitted to the management.
Instructions for usage will be provided upon setup.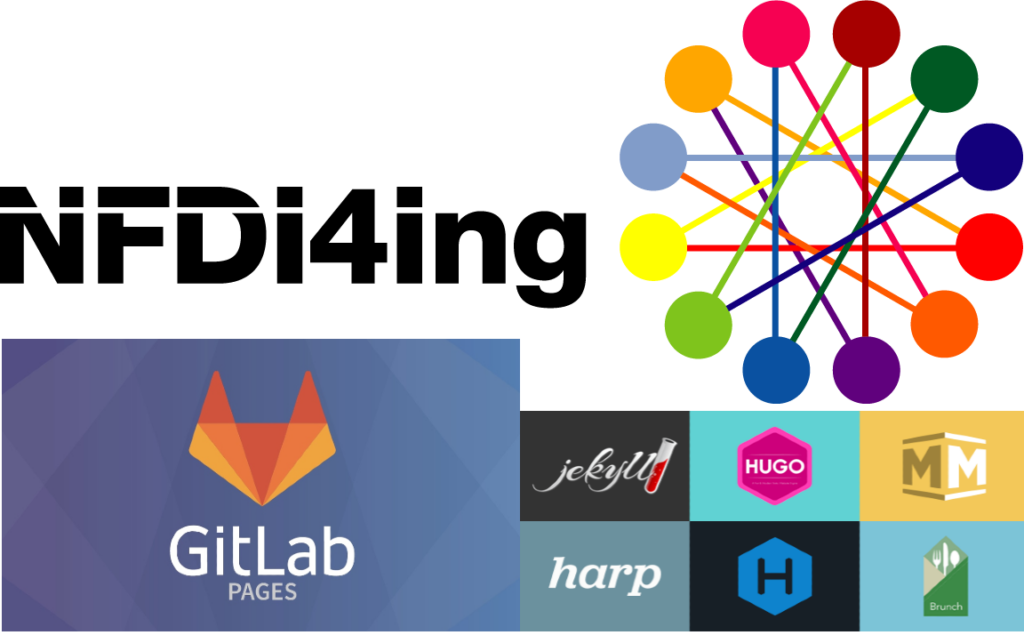 Host your own content but keep the NFDI4Ing.de Look
With Gitlab Pages you can host your own websites in a very easy manner.
Templates for plain html and selected static site generators (SSO) will allow to carry over the coorporate design of the NFDI4Ing.de web presence to custom content.
The templates  and a full guide on the workflow are still work in progress, but you can familiarize yourself with Gitlab Pages already.
The knowledge base hosts a How-To for the SSO 'Hugo', find it here.
Office templates and print material can be found on the sharepoint
This spans slides for powerpoint, letter templates, rollup
See the 'Sharepoint' section on how to get access.

Customer Relationship Management
A software for Customer (or 'Community') Relationship Management
will help us keep track of contacts made into the communities as well as better organize within the consortia.

A service has been selected and is currently being adapted to our custom requirements. As soon as the software is available, you will find additional information and guides here.