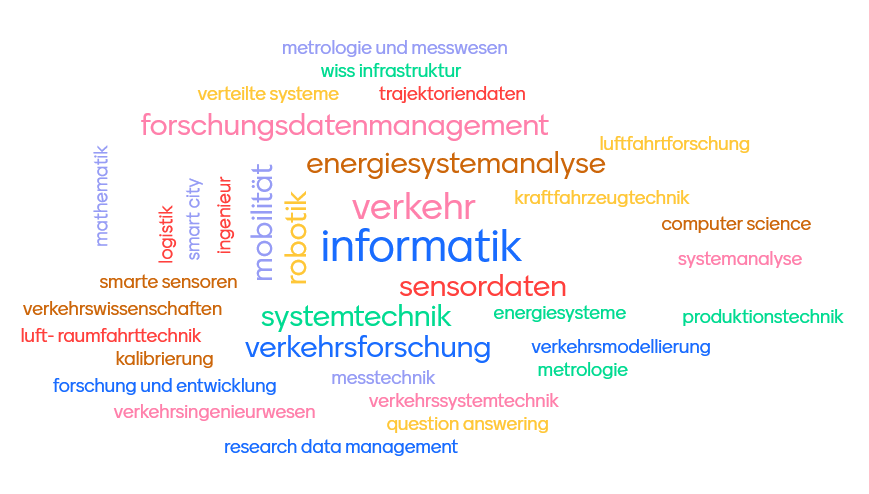 The German communities of Transport Research, Computer Science, Systems and Electrical Engineering met on March 3rd to discuss issues related to the collection, handling and subsequent use of research data in connection with the main topic of "Automated and Connected Mobility".
On Thursday, March 3rd 2022, NFDI4Ing invited researchers from the engineering-related fields of Transport Research, Computer Science, Systems and Electrical Engineering to a Community Meeting. In order to address this particularly heterogeneous community, the main topic was "Automated and Connected Mobility", due to the overlap and intersection of research fields on numerous issues related to the collection, handling and subsequent use of research data on this subject.
The community meeting was organized in cooperation between TU Dresden/SLUB (NFDI4Ing co-spokesperson Prof. Regine Gerike, Marco Berger and Stefanie Roski) and DLR (NFDI4Ing co-spokesperson Dr. Christian Langenbach and Dr. David Hecker).
The program included keynote presentations, as well as exchange and service formats. In accordance with the FAIR principles, the event was focused on facilitating the exchange of knowledge regarding RDM best practices.
With their keynotes, Prof. Markus Lienkamp (TU Munich, Chair of Automotive Engineering) and Prof. Peter Wagner (DLR, Institute of Transportation Systems Engineering) provided an impressive introduction to the topic of "Automated and Connected Mobility". Prof. Lienkamp spoke on the topic of "Open Source, Open Data, Open Mind". In his presentation, he reported on how we can achieve more in the field of autonomous driving through collaboration, open source and open data. His report on the Indy Autonomous Challenge was particularly impactful.  The Indy Autonomous Challenge was a full-scale race with autonomous racecars that took place at the Indianapolis Motor Speedway in October 2021.
Prof. Peter Wagner followed up with a presentation on the "Simulation of Transportation Systems." He used a few selected examples from the field of simulation of traffic systems in his presentation to shed light on exactly what data is needed for and where challenges can still be found in the interaction between data and simulation models from a motor vehicle perspective. This is particularly important, as the availability and handling of data has changed dramatically over the last 30 years.
Scientific progress is largely based on the exchange of experience and the sharing of knowledge. The DFKI, TU Braunschweig and DLR presented their experiences with successful use cases as best practices.  In our thematic block "Interdisciplinary Data Management", we brought the participants together to discuss the status and possibilities of interdisciplinary networking and related requirements for the exchange of research data.
Other sessions informed researchers on current developments and possibilities in research data management (RDM). In "Modern Research Data Management", aspects of personal data management and the requirements of funding bodies were discussed. In "Publishing and Archiving", participants were able to learn more about the status of data repositories for mobility and transport research as well as the new journal "ing.grid", which will provide a platform for open discussion of all data management topics for the engineering sciences.
In advance of the event, we received close to 70 registrations. On March 3rd, 45 participants took part in this first community meeting of the heterogeneous Transport Research, Computer Science, Systems and Electrical Engineering community.
After evaluation, the findings and experiences gathered (e.g. needs of the community, existing developments, etc.) will be directly incorporated into the work of NFDI4Ing and inform further exchanges with the community as well as form the basis for future events.
With the fair principles in mind, we will publish a summary of the community meeting on zenodo in the NFDI4Ing community.
Next step: Opening the Community Board
As a next step, a Community Board will begin its work. The Community Board and its members are meant to represent the full range of the "Community Cluster 44", spanning the fields of Computer Science, Systems and Electrical Engineering, which includes the DFG's current review boards 407, 408 and 409.
407 Systems Engineering
Automation, Control Systems, Robotics, Mechatronics, Cyber Physical Systems
Measurement Systems
Microsystems
Traffic and Transport Systems, Intelligent and Automated Traffic
Human Factors, Ergonomics, Human-Machine Systems
Biomedical Systems Technology
408 Electrical Engineering and Information Technology
Electronic Semiconductors, Components, Circuits, Systems
Communications, High-Frequency and Network Technology, Theoretical Electrical Engineering
Electrical Energy Generation, Distribution, Application
409 Computer Science
Theoretical Computer Science
Software Engineering and Programming Languages
Security and Dependability
Operating, Communication, Database and Distributed Systems
Interactive and Intelligent Systems, Image and Language Processing, Computer Graphics and Visualisation
Information Systems, Process and Knowledge Management
Computer Architecture and Embedded Systems
Massively Parallel and Data-Intensive Systems
The first (virtual) meeting of the Community Board is scheduled for May 24.
Curious? Find the community!
The NFDI4Ing Community Hub strives to give you access to everything important. You can find FAQs, services and contact information for your RDM questions in the fields of engineering right there.