Providing Research Data Management (RDM) support and education is a central goal of NFDI4Ing. Together, the Base Service measure S-6, the Community Cluster measure CC-2, and the Special Interest Group "RDM Training and Education" are introducing new trainings on RDM with special focus on engineers.


The general objective of Base Service measure S-6 is to define and provide community-based training concepts and materials that are usable by all other NFDI4Ing task areas, thereby enabling data-driven science and promoting the FAIR data principles. Together with the Community Cluster measure CC-2 "Education", a joint group was formed in order to achieve these shared goals.
The trainings developed in measure S-6 are tailored to address specific challenges that emerge during engineering research, such as writing data management plans and handling data along the data life cycle. Measure CC-2's activities are focused on data literacy concepts as well as general RDM competencies increasingly required as part of the professional qualification of researchers, academics, and students in engineering sciences. To bring these measures together and to include external experts and interested parties, a Special Interest Group (SIG) "RDM training & education" was established back in 2021 and is still going strong. The SIG's RDM-related trainings are community-driven: After the initial development, all materials go through feedback loops to insure the match of material with the intended learning goals.
The developed trainings are designed to be self-paced and currently available for everyone in the NFDI4Ing Education Repository.
A special thanks goes out to all participants in our past SIG meetings and their valuable input! Soon, all existing training materials (i.e. PDF-slides) in the Education Repostory will be transferred into webpages for better ease-of-use.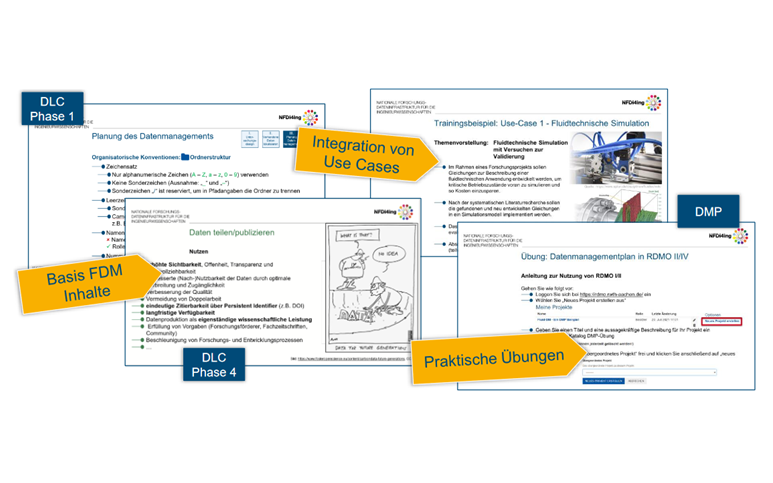 We are always looking for more members of the engineering community to get involved in enriching and further developing existing trainings. Everyone is invited to contribute to the existing and new training materials in our  meetings of the SIG "RDM Training and Education". We meet once a month to design one training topic. No matter whether you add short RDM anecdotes, share your experiences, supply interactive content (e.g. multimedia or animations) or help developing elements to check the learning progress (e.g. quizzes and tests) – every idea is welcome to make the trainings more interactive and more specific for engineers.
We believe that this is the best way to improve the effectiveness of the trainings and to help everyone getting a better and more practical start into RDM. Your participation is what makes out trainings community-driven!
The next meeting of the SIG "RDM Training and Education" will be on May 5th from 10AM to 12AM. Please register using the following link: https://rwth.zoom.us/meeting/register/tJAlf-ihpj0iHdVvj6kucU7EzIDbfriRRy1j. A confirmation e-mail will be sent after the registration with your personal access details.
We are looking forward to seeing you!
Mario Moser
Janna Neumann